Aktuell finden aufgrund der Covid-19 Einschränkungen und Maßnahmen unsere Veranstaltungen online statt, damit wir weiterhin für euch da sein können. Wir hoffen euch im Laufe des Jahres dann auch wieder zu Präsenzveranstaltungen begrüßen zu können.
Bis demnächst, euer AfroPolitan Berlin Team!
Online | Black, Brown & Vocal: Anxiety
Group Talk with Felicia Lazaridou (English)
Wednesday 21st April, 7pm – 8:30pm (19:00 – 20:30)
Please donate to keep our programme going!
Registration: info@afropolitan.berlin (link will be sent on the day of the event)
+++ For members of the Black community* +++ 
COVID-19 has increased our social anxiety levels. For people with pre-existing anxiety in a clinical sense, this may have worsened mental health symptoms. And, for some, new symptoms have emerged. Learning how to manage anxiety has become of paramount importance for us all. This is an opportunity for us to discuss anxiety, and healthy management strategies. Please join, no matter your level of understanding or personal experiences. 
This event will take place in English spoken language.
Online | Iroko Yoga
Workshop Series with Lee Modupeh Anansi Freeman (English / German / possibly French)
Thursday, 22nd & 29th April and 6th May, 7pm – 8:30pm (19:00 – 20:30)
Fee: 8 € / 5 € (reduced for students, apprentices, unwaged) / per session
Registration: info@afropolitan.berlin (link will be sent on the day of the event)
It is possible to attend all or individual sessions, so please specify when registering
+++ For BIPOC (Black, Indigenous & People of Colour) +++
Iroko Yoga classes center BIPOC and Queer/Trans experiences, narratives and bodies. Founded by Lee Modupeh Anansi Freeman (they/them/sie), a Blaqueer, trans yoga teacher, their aim is to empower practitioners to fully exercise their agency on and off the mat. Their goal is to bring a loving, embodied healing practice to marginalised communities that are overlooked and under-served by the white supremacist, colonial, cishetero patriarchy that is ever-present in the (yoga) world today. Their teaching style combines elements from the Hatha Vinyasa Vedic system as well as traditional African (Kemetic) postures, movements and philosophies. Their style is also suitable and adaptable for students of all levels and for diverse body types. Iroko Yoga serves as a means to connect people to their own bodies, to their own minds and ultimately to their own source of inner power.
This event will take place in English, German and possibly French spoken language.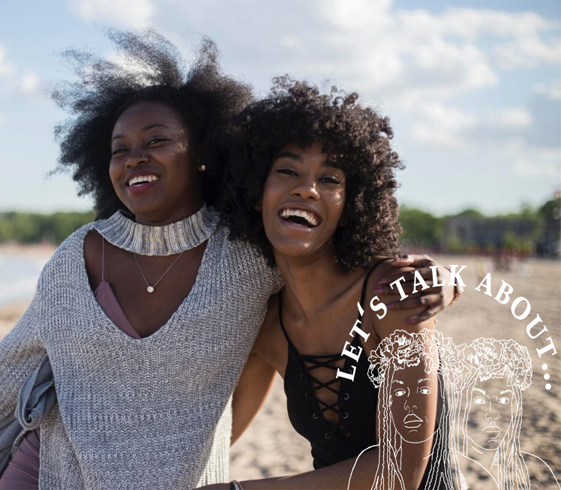 Online | Let's Talk About… Freundschaft
Gesprächsgruppe mit Tebbi Nimindé (Deutsch)
Mittwoch, 28. April 2021, 19:00 – 20:30 Uhr
Um Spenden für die Teilnahme wird gebeten!
Anmeldung unter: info@afropolitan.berlin (Link wird am Tag der Veranstaltung zugeschickt)
+++ Für Angehörige der Schwarzen Community* +++ 
Diese Woche möchten wir mit Euch über Freundschaft sprechen. Das Eingehen und Pflegen von Freundschaften ist durch die momentane Pandemiesituation nicht einfach. Wie können wir unsere Freundschaften aufrechterhalten und wie pflegen wir diese? Für Schwarze Menschen ergibt sich im Bezug auf Freundschaften, insbesondere im Prozess der eigenen Politisierung eine weitere Schwierigkeit. Der Blick auf bestehende Freundschaften kann sich ändern, wenn ein Schwarzes Bewusstsein erwacht und ein eigener antirassistischer Weg beschritten wird. Wer geht diesen Weg mit und von welchen Freundschaften müssen wir uns vielleicht verabschieden. Wir wollen Erfahrungen teilen und Strategien besprechen. Wie immer freuen wir uns auf eure Meinung. Also, let´s talk about Freundschaft.
Die Veranstaltung findet in deutscher Lautsprache statt.
Online | Facing Racism
Conversation with BlackBrownBerlin & AfroPolitan Berlin (English)
Video on demand (until 30th April): A discussion with BlackBrownBerlin & AfroPolitan Berlin on the International Day for the Elimination of Racial Discrimination on methods, tools, knowledge, resources and mechanisms of (en-)countering anti-Black racism.
The International Weeks Against Racism will take place across Germany from 15th to 28th March. We would like to address these critically, question what they really effect, especially for Black and BIPoC communities, and place the discourse and focus clearly on the perspectives of those affected by racism.On 21st March two of Berlin's Black and Afrodiasporic empowerment and community projects come together to discuss and reflect on how we can further the elimination of racism. We will reflect on concrete situations of being confronted with racism – structurally, systematically, internalised and everyday-racism. The discussion will sensitise for the reality of racism, as well as reflect on how it could and should be handled, especially what would be desirable from surroundings, allies and accomplices in facing racism.
+ This event took place in English spoken language
*Mit der Bezeichnung "Für Angehörige der Schwarzen Community", möchten wir darauf hinweisen, dass diese Workshops und Veranstaltungen ausschließlich an Menschen gerichtet sind, die sich als Schwarz (B = Black), positionieren. Das heißt Menschen, die der afrikanischen Diaspora angehören, jene die Anti- Schwarze Rassismuserfahrungen machen und von der Mehrheitsgesellschaft als nicht-weiß gelesen werden. Um rassistisch Diskriminierten die Möglichkeit zu geben, ihre Gedanken innerhalb eines sog. "Safe Space" zu artikulieren, ohne Ausgrenzungen zu erfahren und Bevormundung einer mehrheitlich weißen Teilnehmer:innenschaft zu vermeiden, gestalten wir gewisse Kurse exklusiv.
*With the term "For members of the Black community" we would like to point out that these workshops and events are aimed exclusively at people who position themselves as Black. That means people who are part of the African diaspora, those who experience anti- Black- racism and are categorized as non-white/ Black by the white population. In order to give racially discriminated Black people an opportunity to articulate their thoughts within a "safe space", without experiencing exclusion and avoiding the paternalism of a majority of non- Black participants, we create certain spaces exclusively.
**Wir bedauern sehr, dass unsere Räumlichkeiten derzeit nicht barrierefrei zugänglich sind. Unser Hauptveranstaltungsraum hat am Eingang eine Stufe. Toilette, Waschräume und Garderobe sind ebenfalls nur über eine Schwelle und weitere Stufe erreichbar. Bei weiteren Fragen zur Barrierefreiheit nehmt gerne Kontakt mit uns auf.
**We regret that our premises are currently not barrier-free. Our main event room has one step at the entrance. The toilet and washrooms are also only accessible via a threshold and another step. If you have any further questions about accessibility, please do not hesitate to contact us.